ST4Y Management Systems and Service

St4y - Management Systems and Service
At Murray Uniforms we understand how important it is that you receive your goods in time and correctly. In fact it is so important to us, we have created our own brand as a banner for all that we provide - St4y: Saving Time 4 You.
Logo Service
Everyone wants to be instantly recognisable and promote their company in the smartest way possible.
One easy solution to this is a smart uniform that reflects your Corporate Colours and includes your Company logo so that your company is enhanced from yet another angle: uniform.
Murray Uniforms will ensure this solution. With our embroidery facility; in-house heat-seal machines and designated sewing and alterations staff we make your uniform exclusive to you. We believe this is one of the most important areas of the business for all of us; therefore we take great care when digitising logos to get this perfect for your company.
This is how it works:
We receive your logo artwork (compslip, letterhead, jpg/existing logo on garment)
We digitise and run a sample of your logo, ensuring quality is to our exacting standards
You sign off on the sample, or may make amends if required
Once approved, the logo is set up on the customer account
All logos thereafter are double checked to ensure they meet original benchmark sample
We continually check our machinery and update our logo facilities as the quality of your logo is as important to us as it is to you.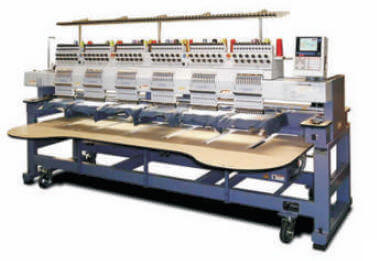 Custom Uniforms
Are you looking for something more exclusive than just a logo on your uniforms? The answer lies in our Custom Service...
We can design and produce a specific uniform incorporating your corporate colours and branding to create a distinctive and unique corporate identity.
Whether it be attractive neckwear, embossed badges & epaulets or well designed shirts, we will bring them together in one package.
Custom Heat Press Transfers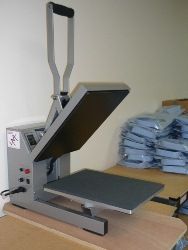 A British Heat Press Machine Manufactured in England... Look at the great range of Heat Seal Transfers that can be applied to your Uniforms and Outdoor wear. No more embroidering onto 100% Waterproof Jackets defeating the claim immediately with the pin pricks of needles through that waterproof fabric. Order now the range of Transfers and let us apply them for you at very small cost.
This method of Heat Press Transfers and Badges is great! With a small stock of Heat seal logos we can very quickly the same day apply your logo on to your garment. The Badges and Transfers have a very sharp and detailed print definition and have a photographic quality. Multi colour's no problem! Please submit your design to be added to your garments.
MU4199
Custom Embroidery to your Hats & Caps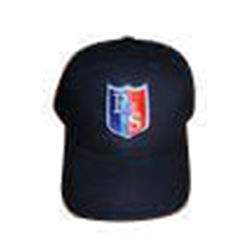 Call for Price